Democracy Fund.
Brand Strategy & Execution.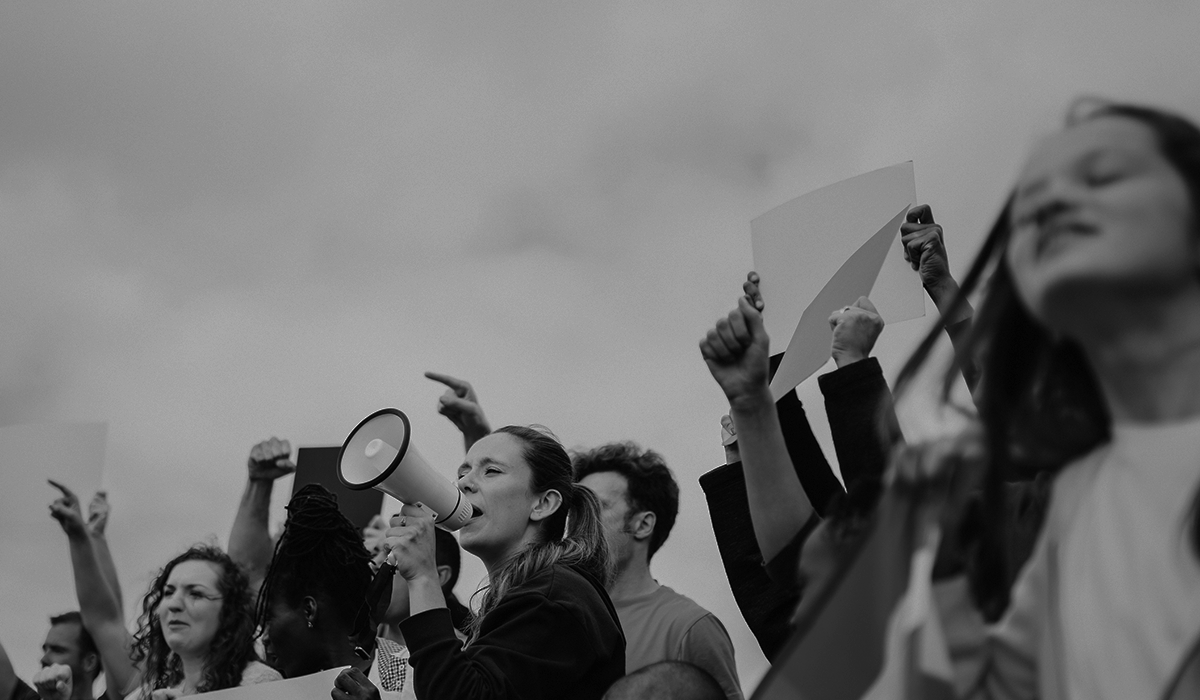 34
Since 2014, Democracy Fund has worked to support an open and just democratic system through funding, philanthropic advising, and advocacy work. Democracy Fund selected nclud to conduct discovery research with internal and external stakeholders and to refresh Democracy Fund's digital brand and redesign its website property, democracyfund.org.
---
Strategy
A research plan leading to a comprehensive brand & digital strategy.
Our research team conducted the following activities during the 6-month discovery phase:
10 individual interviews with external stakeholders
An ongoing general website satisfaction survey through HotJar with over 50 respondents
A 120-minute key performance indicator workshop with internal stakeholders
Research resulting in 60+ pages of transcribed interview documentation
12 baseline usability tests
A literature review
A Google analytics review
An audit of all existing content on democracyfund.org
A design questionnaire
Our primary objectives during the Discovery Phase of the project were to:
understand Democracy Fund's organizational priorities, processes, and goals,
analyze the current site to identify strengths and weaknesses,
research the tasks for which external and internal users rely on democracyfund.org and
make recommendations for the upcoming redesign and rebuild of the site.

Overall, nclud found that the website should serve to increase and build upon Democracy Fund's brand and reputation. Internal and external stakeholders believe strongly in Democracy Fund's mission as an organization able to enact change while speaking genuinely to both sides of the aisle, and this outspoken support should be well-represented on the website. It became clear that in these polarized times, Democracy Fund is actually uniquely positioned to conduct this bipartisan approach.
We found consistent themes when talking to external stakeholders through user interviews:
Democracy fund's systems thinking approach is integral to brand and messaging
Democracy fund is known for its unique entrepreneurial and innovative approach in the field
Grantee appreciation for Democracy Fund's support and personal relationships with individuals at the organization
Improved clarification and transparency around the grantee process and the organization's impact
Clarification of democracy fund messaging on site and as it relates to the brand
Democracy Fund's role in the field is as an advocate, go-to resource, and thought leader
Funder and grantee network opportunities are important to the success of the organization's mission
Importance of social media as touchpoint for Democracy Fund users
---
User Experience
Addressing the needs of diverse audience groups.
After the completion of the discovery phase and outputs, we set to work on creating a reimagined sitemap for democracyfund.org. Our key priority was to make sure pages and user flows were tailored to the needs of Democracy Fund's key audience groups: Peer Funder and High-Net-Worth Individuals, Potential and Current Grantees, Policy-Makers and Practitioners, Media and Influencers, and Job Applicants. The color-coordinated sitemap below shows the breakdown of this prioritization. The previous site included a lot of vague navigation terminology that we wanted to get from. We worked with Democracy Fund to come up with navigational flows that were as specific as possible and focused on high-traffic areas of the site like the Grants Database and Democracy Fund's Healthy Democracy Framework.
During wireframes, we took special care to revamp the content strategy and flow of the website. The major landing pages of the website, Ideas section and Grants Database were paid special attention. Democracy Fund considers itself a "foundation+" meaning they not only fund important work and foster a collaborative community, but also put out scholarly research and opinions of their own. We created the "Ideas" section of the website to reflect these organizational objectives. The Grants Database also got a makeover. We turned the database from what was essentially an excel spreadsheet into a useful interactive tool, not only for grantees and potential grantees, but for internal Democracy Fund staff and partner funders in the space.
---
Design
Translating the brand to an extensible design system.
For design, nclud had a unique challenge at hand. Democracy Fund's internal design team had worked to create a brand that spoke to both sides of the aisle and did not appear over-the-top patriotic and cheesy (this was a fine line to toe, especially because Democracy's color palette was various shades of red, white and blue). We were sent the current brand guidelines and a variety of print materials for inspiration and a jumping off point. Each moodboard focused on many subtleties: type treatments, arcs and waves, image treatments, alignment concepts, iconography, and different ways of using Democracy Fund's color palette.
In all three moodboards, we wanted to propose a confident and bold translation of Democracy Fund's brand that not only reflects the current political climate, but also the urgency that many in the field feel at this moment.
---
Development
A modular framework that can adapt over time.
We crafted reusable components using Advanced Custom Fields in WordPress. This allows Democracy Fund to easily add to, delete or create new pages; the site editors have just the right amount of options when building pages, but not enough to overwhelm them with extraneous knobs and switches. Our unique, hand-crafted development process resulted in light-weight pages without extra cruft slowing down page load times. Our passion for design and user experience doesn't end at the frontend. It is an integral part of crafting a backend experience to make the work of managing website content more enjoyable and efficient.
Next Case Study
Tesla Motors.
Driving a brand forward.