American Society for Microbiology.
Creating a contagious live experience.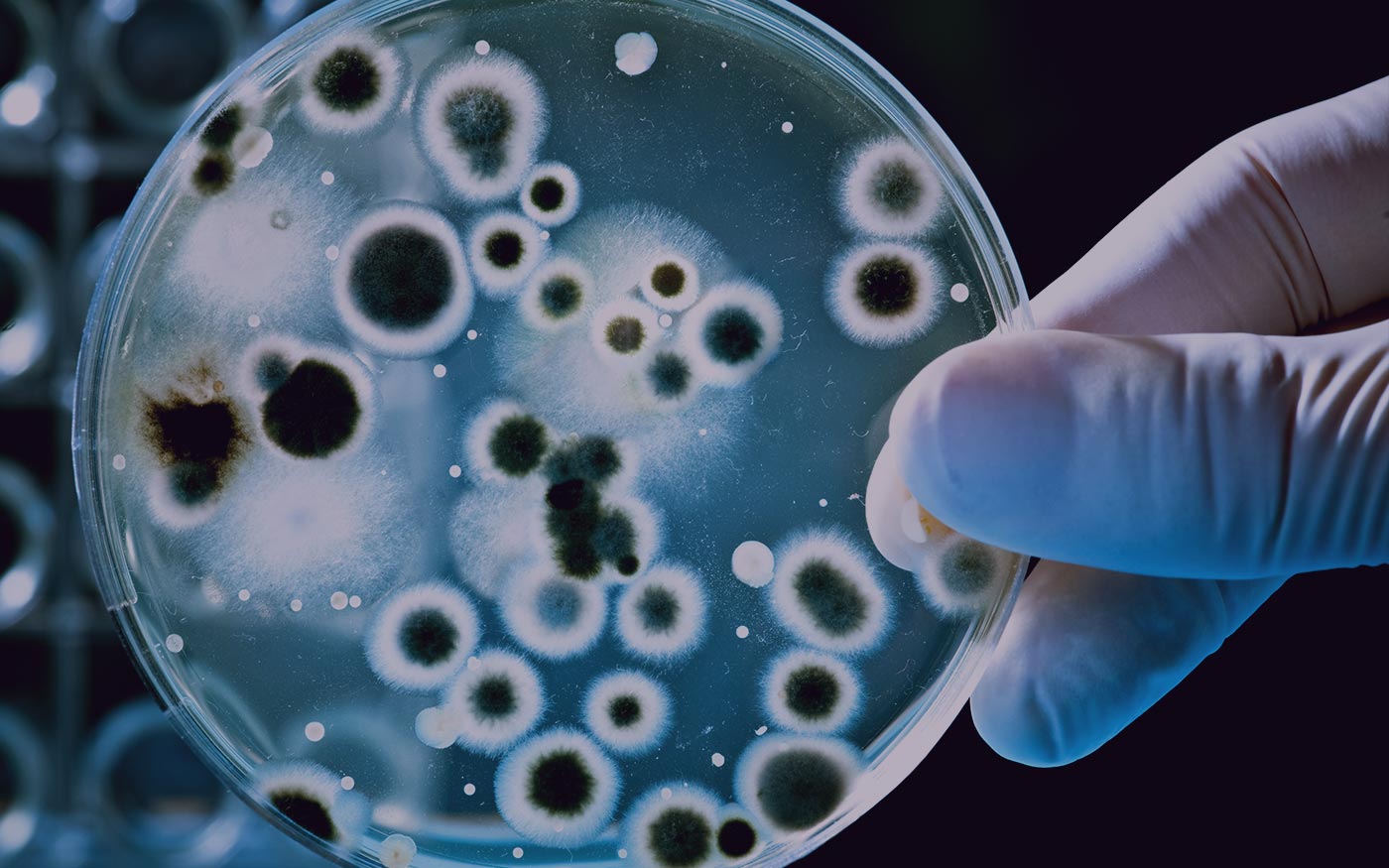 17
The American Society for Microbiology (ASM), the largest life science professional organization in the world, had a problem: how do you connect with a growing audience of over 50,000 members, many of whom are digitally-native millennials seeking something more than just a society membership to put on their resume?
Our collaboration started with an end-to-end digital strategy and continued through user experience and design to create MicroNow — a one stop shop content hub and digital platform for ASM members to find the latest research, policy news, and community with their fellow life science experts. With their annual worldwide conference approaching in New Orleans, we wanted to celebrate the launch of the new experience in style: a full-blown interactive game for members participating both on-site and online. One part marketing, one part user testing aggregator, and one part real-time analytics tracker, the targeted campaign won big for its players and ASM.
Our Contributions.
Content Strategy
Engagement Strategy
Marketing Campaign Strategy
Social Media Strategy
User Experience (UX)
User Interface (UI)
Visual Design
Front-End Development
Responsive Web Development
Back-End Development
Content Management Development
User Testing
Analytics & Optimization
Quality Assurance
Brand Management
Strategy
We jumpstarted the new community by getting everyone excited to participate.
ASM wanted something intriguing and dynamic to drive engagement, especially among the younger members and those traveling in person to the Microbe 2017 conference. While MicroNow was an exciting new frontier for the society, we knew we could do one better for the members from around the globe: an interactive adventure focused on stopping the latest bacterial threat, turning every team of microbiologists into a team of superheroes.
We started by identifying the four key user types based on the Bartle taxonomy of player types: Achievers, Explorers, Socializers, and Killers. Achievers like to gain points, levels, or other measures of concrete success within a game. Explorers prefer to explore maps, discover new areas, and learn more at their own pace. Socializers love the social and interactive nature of gaming — using games as way to meet new people instead of "winning." Killers live for the competitive nature of games, eschewing social interaction and exploration in favor of winning at all costs.
With the basic user archetypes in place, we knew we needed a hook to excite the highly passionate crowd of scientists to keep them involved and engaged throughout the conference. Looking at our favorite cheesy disaster movies, we created a location-based narrative to market: a new micrococcus bacterial strain, nolacoccus beignetis, had been discovered in the area immediately surrounding the convention center in New Orleans. It would be up to the MicroNow scientific community to join teams and earn points through site engagement to create the strongest antibiotic possible, containing and destroying the strain by the end of the conference. To contextualize the immediacy of the "situation," we developed a real-time updating petri dish that would be shown on displays throughout the conference that visualized each team's antibiotic growing to fight the strain as they gained points.

User Experience
We captivated members with an experience that gave us insights into what they really wanted.
Gamifying the site and conference showed us how visitors would engage with MicroNow — from the initial launch to onboarding to becoming a regular experience over time. Implementing a points-based mechanism based on site interactions not only served the members' competitive and gaming instincts, it also provided us real-time user testing data and a perfect log of all user journeys and flows through the site. The gamified experience incentivized visitors to continue browsing and commenting on the platform to guide their team to victory, while behind the scenes we could show the ASM team measurable and predictive metrics into the consumption habits of their core audience. And we didn't just implement an automated system to measure user data — we flew to New Orleans with the ASM team so we could conduct on-site user testing sessions and gather qualitative metrics to better understand the patterns we were seeing within the game.
Once we had the metrics and tracking in place, we defined a content strategy and experience for long-term success. We collaborated to create a series of marketing and targeted campaigns to further community engagement beyond the immediacy of the conference, working to build a place where members could form a connection with fellow experts online. By turning the introduction of MicroNow into a fun and interactive feedback system, we ensured the platform we built had an active user base right out of the gate — ASM not only had a modern, beautiful, and visitor-focused site, they had a captivated and engaged audience at launch.
---
Development
WordPress didn't just serve as the content management system — it became the gaming logic database and backbone.
When we developed MicroNow, we chose WordPress as the content management system (CMS) for its ease of use and familiarity to authors, editors, and community members. The most popular website management system, supporting over sixty million websites, WordPress is best known as a blogging platform — but we needed it to do more. Keeping WordPress in place to ensure we maintained the user base moving forward, we built the gaming functionality directly on top of the existing platform structure. Pushing the limits of the CMS's functionality, we created a catchall platform that registered and tracked points and community engagement while preserving the ASM team's content publishing and management needs.

For the front-end data visualization, we used D3.js (a JavaScript library for manipulating documents based on data) in conjunction with JSON output from WordPress to create an interactive petri dish. Based on the actual growth, shapes, and motion from real bacteria, the petri dish mapped the point data from the various WordPress member types and interactions into team-based strains of antibiotics. As teams gained more points, the visualization updated in real time to show the strains growing in the dish and fighting the bacteria. A cross-platform and responsive landing page allowed visitors and the ASM team to pull up the visualization from anywhere, on any device, to track their team's progress (and drive them into further engagement).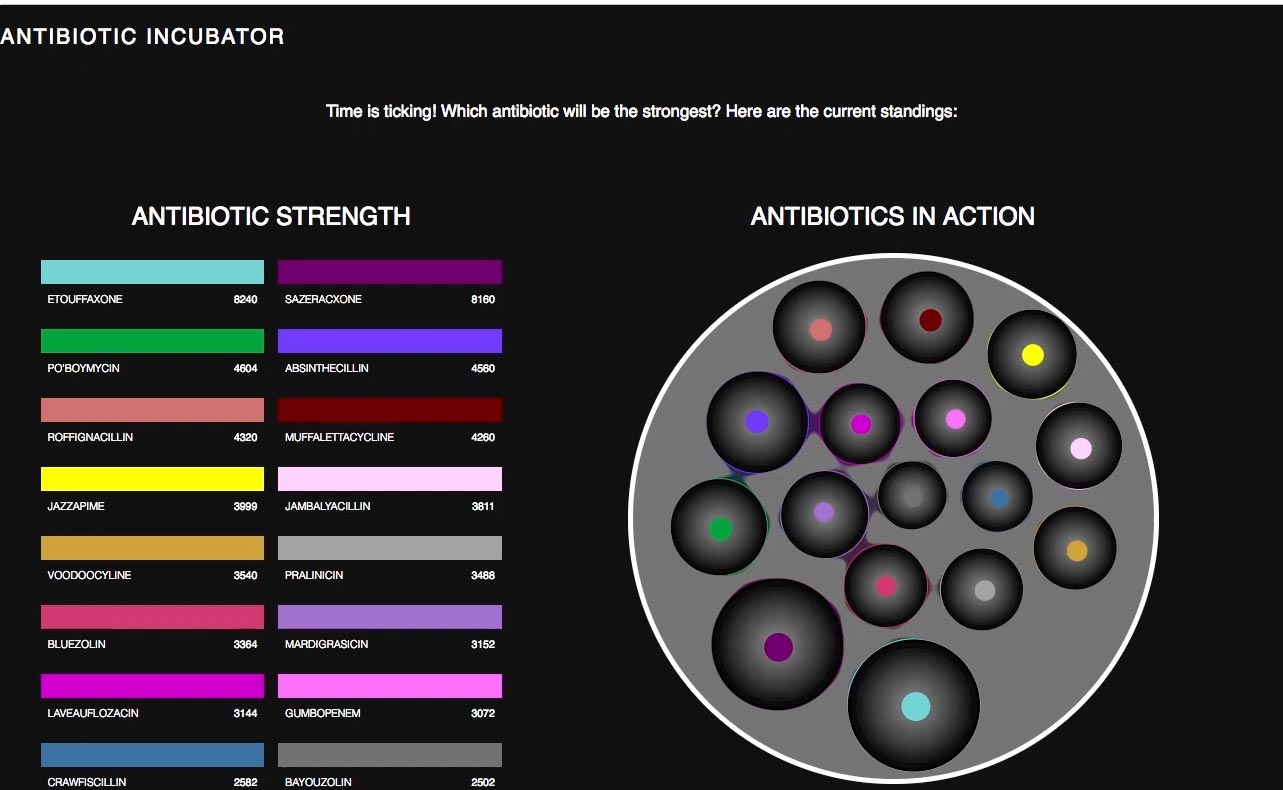 Results
The success of the game, platform, and engagement was infectious.
With a rough prediction of a hundred "power users" engaging with the game and platform over the course of the conference, ASM was blown away when there were over thirteen hundred active users in three days — an increase of 1650%. Over eight thousand visitors landed on the site in the leadup to the conference, with over a third of those signing up to join via email. During the conference, visitors to MicroNow averaged 6.4 pages per session and 6:15 time spent on site. Approximately a hundred and fifty power users (including some that stayed up all night posting comments and reading content) were so engaged with the game and experience that they generated almost 3500 page views on their own, spending an average of thirteen minutes on the site. Perhaps the most surprising aspect was that only two thirds of the site visitors were in New Orleans, showing how the strategy spread beyond the confines of the conference.
There's a real need for this kind of site to bridge the community. I could see this being a tremendous resource to my students and staff. Students really could use this as a place to make connections and look for information. I'm very excited to bring this back to my classes and to introduce it to my students.

Peter McCarthy, Ph.D.

Member, American Society for Microbiology
In the first three weeks after the conference, MicroNow gained over two thousand new users and had almost seventy thousand page views. On one day alone, 466 visitors viewed over three thousand pages and staying on the site an average of over four minutes. Only 62% of the site traffic has been from the United States, showing how the MicroNow platform and community has spread around the globe. Based on traffic and user flows, visitors are coming to the site to engage, interact, and consume content — creating the very community that MicroNow sought to build.
Next Case Study
Amazon.
Solve IT in the Cloud.